Acupuncture Single treatment - 45 minutes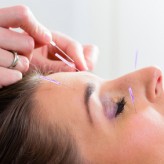 Acupuncture Single treatment - 45 minutes
Your first visit requires an initial consultation and a treatment, it usually lasts 45 minutes.
TCM acupuncturist will make a diagnosis, based on the collected complete clinical information (including medical history, pulse reading, tongue examination, 'signs and symptoms' information, palpation, etc.).
Individual personalised diagnosis let practitioner to create uniquely personal treatment plan (including 'the Formula of acupuncture points', possible use of moxa, cupping, guasha or massage manipulation).
Any aspect of chosen procedure will be discussed including 'the after treatment care', and The Consent forms should be signed by you.
After the needles insertion, which have been chosen according to the treatment plan, the needles sometimes can be stimulated for better therapeutic effect.
The retention of needles can take 20-30 minutes. In most of the cases the recommendations about diet, exercises and lifestyle will be given in order to prevent further progress of the existing problems and to increase the effectiveness of the natural healing process which follows the acupuncture treatment.
The number of required treatments depends on the condition and will be discussed with you. In most of the cases, however, it takes several visits.
Theresa is a fully qualified practitioner in Acupuncture and bodywork. She is fully insured and a member of a professional body, the CMIR. She has had over 8 years of experience, which has included teaching as a principal lecturer for post graduate diplomas, workshops and CPD courses to health care professionals and undergraduate students at the CMIR. She had studied with the College of Chinese Medicine and the Chinese Medical Institute and Register. In 2010 she had completed her Msc in Chinese Medicine at Middlesex Univeristy. In 2012, further career development led her to train and study at the Guangzhou University of Chinese Medicine and Pharmacology. Theresa's further professional development, qualifications and training also includes pregnancy and post natal massage, manual lymphatic drainage massage and LPG Endermologie for face and body. She is a dedicated professional in her career and believes in non-invasive approaches to rehabilitation and overall General well-being.


androulla christodoulou
Jul 10, 2016
After two treatments i have seen a difference, and i will certainly continue.