Signature Oxygen Facial - three sessions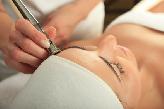 £225.00

or
£215.00


if booked on-line
Book now
Signature Oxygen Facial - three sessions
 Save £10 
 Course of 3 facials with 
Signature Micro Oxygen, including cleansing, vitamin C serum and moisturizer. Indulge yourself with this absolutely incredible double deluxe treatment. Our therapists will exfoliate your skin using our Prestine microdermabrasion machine, preparing your skin for the reception of pure oxygen from our Oxygen BautylLab machine, ending with a prescriptive mask and a deeply relaxing decolte and neck massage. An ultimate delight that will leave your skin looking like you have never seen it before.
Microdermabrasion is a safe, non-surgical resurfacing procedure performed by a certified professional. It is an ideal treatment for young or old, male or female and for all skin types. Although mainly used on the facial area it may also be performed on the chest, back, shoulders or other areas as required
We use the most well knowing on the market Microdermabrasion Diamond Peel machine -The Pristine.
The award-winning Pristine™ microdermabrasion procedure offer London residents a simple way to maintain youthful and vital skin.
Using natural diamond tipped wands, this gentle treatment deeply exfoliates the skin, improving the appearance of lines and wrinkles, stimulating collagen production, promoting the growth of healthy new cells, reducing acne scarring and sun damage.
What skin conditions can Microdermabrasion treat?
Acne & Acne Scarring

Fine Lines and Wrinkles

Ageing Skin Dull and Tired Skin

Uneven Skin Tone

Dry and Dehydrated Skin

Stretch Marks

Pigmentation and Blemishes  
Prestine microdermabrasion
The skin is treated to a deep, mechanical exfoliation which gently resurfaces the outer layers of the skin, removing damaged cells and stimulating the skin's natural cell regenerating process. The result is healthy, natural, smooth and youthful skin.
All products will be tailored to your skins need.
Restrictions
If you have any of the following as you may not be-able to have the treatment;
Active or uncontrolled diabetes -raised moles, worts or skin tags (only area being worked on) 

Skin cancer or& auto immune disease

Eczema, dermatitis or psoriasis -Broken capillaries

Rosacea or active acne

Herpes Simplex
Min age -16
Side Effects?
One of the reasons why this treatment has become so popular is because an oxygen facial has little to no risk of serious side effects that often occur with so many other professional skin care treatments. People with very sensitive or damaged skin may experience some redness, but it is usually temporary.
What does oxygen do for skin?
Without oxygen, all cells will die almost immediately, including skin cells. As we age, our bodies, and especially our skin, lose their ability to retain and utilize oxygen for normal metabolic (formation of new cells) processes. Add to this, the effects of stress, pollution, smoking, poor diet and lack of exercise and you have a serious oxygen deficiency in the skin. The oxygen molecules attach themselves to the red blood cells, as well as the collagen and elastin fibers to stimulate production of healthy new cells, and to increase the strength and suppleness of the skin.
Which skin types and conditions are helped by oxygen?
All skin types:
Light to Dark Skin Tones

Young & Old

Dry To Oily Skin Types

Individuals using Retin-A

Individuals using Microdermabraison

Individuals using Facial Toning

Individuals using Alpha-Hydroxy, Glycolic Acid, and Chemical Peels

Pre and Post Op for Laser Resurfacing

Pre and Post Op for Plastic Surgery

Male and Female
How much oxygen is used in an Oxygen Infusion?
Oxygen makes up between 18- 21% of the atmosphere and is required to sustain life. The Oxygen Infusion Facial Treatment draws this oxygen and filters it to aconcentration of 90-95% pure oxygen.
Which skin conditions benefit from the Oxygen Infusion Facial Treatment?
The Oxygen Infusions help increase the skin's moisture levels and targets dry, dehydrated and prematurely aging skin, sensitive skin, sensitized skin, sun damage, brown spots, skin laxity, fine lines, wrinkles, uneven skin texture, post inflammatory pigmentation and problem prone skin conditions.
If you have any of the following as you may not be-able to have the treatment:
Active or uncontrolled diabetes
Raised moles, warts or skin tags (only area being worked on) 
Skin cancer and/or auto immune disease
Eczema, dermatitis or psoriasis
Min age - 16 years old
Unlike microdermabrasion and other methods of smoothing out the skin for a more even tone, an oxygen facial does not usually cause any side effects, such as stinging, itching, or burning. The method of delivery used in order to pump oxygen into the skin is gentle, which makes the treatment a viable option for those with sensitive skin, and who have difficulties with injections or other harsh treatments to get rid of wrinkles. Those who have an oxygen facial can resume normal activities right away and even apply makeup or lotion without worrying about how the skin will react.
The infusion of oxygen and vitamins is good for the skin because it encourage the growth of new cells as well as collagen. This treatment may also rejuvenate skin that has been exposed to pollutants, such as tobacco smoke and other toxins that starve cells of their oxygen. In addition, while some treatments can cost hundreds of dollars, an oxygen facial is still less expensive than Botox injections or other chemical facial fillers. It is believed that the infusion of oxygen helps the skin to create new cells at a faster rate and reduce the appearance of blemishes.
Ivan is a senior Sports Injury Practitioner and bodyworker, who devotes his passion, expertise and niche in sports therapy. Ivan is fully insured and a member of FHT and the ISRM. His experience developed from studying at the National Sports School of Bulgaria whilst competing for the National Team. As a previous sportsman, his competence in understanding an individual's physiology and associated conditions established. He completed his studies in London with a internationally recognised qualification in ITEC Sports Massage Therapy and a BTEC Level 5 diploma in Sports Remedial Massage. Ivan now pursues his career and speciality in the diagnosis and treatment of injury and rehabilitation of sports and fitness.
He offers a strong understanding of various musculoskeltal conditions including; low back pain; Repetitive Strain Injury (RSI), stiff neck and stiff upper back, tight hamstrings etc. Ivan adopts a dynamic approach to his treatments with kinesiology taping, advanced manual manipulations, assisted body strengthening stretches, pre and post workout treatment and other highly effective techniques. Ivan's professional development also involves training in LPG Endermologie.