Facial thread veins removal (elecrolysis/diathermy)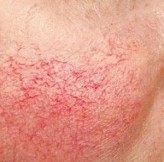 Facial thread veins removal (elecrolysis/diathermy)
Single session from £50 – £80
Administration in to the skin  vie numerous tiny injections vitamins, minerals and hyaluronic acid. 
Reduces wrinkles , fine lines, cellulite ,scars appearance, rejuvenates skin, makes skin looks younger and fresher. Also recommended for small areas fat reduction.

Effect lasts up to 12 month.
Areas treated with hyaluronic acid:
Face
Neck
Decolte lines  
Hands
Scars
Mesotherapy treatment is a non surgical cosmetic solution aimed at diminishing problem areas in your body such as cellulite, excess weight, body contouring, and face/neck rejuvenation, just to name a few. It is administered via numerous injections containing various types of medicines, vitamins, and minerals. It is introduced into the mesoderm, the layer of fat and tissue underneath the skin. The content mixture of the injection varies in accordance with each unique case and specific area to be treated. Treatment may be carried out immediately after an initial consultation at which point you will be informed as to how many treatments you will require. Micro-injections are given twice a week over a period of 4 to 8 weeks. Some individuals may require a course of 4 weeks, although a full treatment course takes 8 weeks. The treatment is long lasting and the results measurable. When the desired effects are achieved, all that is required is annual maintenance over a 4-6 week period. Superb results are achieved and those being treated look and feel better both during and after treatment. Overall, with a moderate amount of lifestyle change, Mesotherapy can provide measurable improvements with people losing up to 2cm from the circumference of their thighs after only 6 sessions.
What are the benefits of Mesotherapy over surgical techniques such as liposuction?
Liposuction does not treat cellulite. In fact, liposuction often causes existing cellulite to appear more prominent. Mesotherapy treats cellulite directly, promoting smoother skin and reducing fat in selected areas. Fat deposits are flushed from the body, and do not reappear in other areas, which often occurs after liposuction. Mesotherapy does not require hospitalization, general anesthesia or downtime.
Which cosmetic conditions can Mesotherapy treat?
Although Mesotherapy is used to treat a broad spectrum of injuries, illnesses and medical conditions, it is also employed to treat cosmetic conditions, including acne, cellulite, stretch marks, scars and wrinkles. It can also be used to reduce and contour fat.
What are Mesotherapy's anti-aging and skin rejuvenation uses?
Subdermal vitamin injections rejuvenate the cells, making them more active, and thereby stimulating the production of collagen and elastin. You can begin anti-aging treatments in your mid twenties to prevent wrinkles from forming. Treatments for the face, neck, arms and hands are recommended several times each year.
How does Mesotherapy reduce or eliminate cellulite and fat?
Mesotherapy treats three factors involved in cellulite formation. Your practitioner creates a specific formula to reduce the fat in your cellulite, improve impaired circulation and break down damaged connective tissue - thereby smoothing the skin's surface. Mesotherapy can treat cellulite located anywhere on the body.
When Will I see Results?
Results vary depending on your body type and the condition being treated. On average, patients notice visible improvement in two to three sessions. For certain conditions, patients see results after the first session.
Will the results last?
The results do last, especially when combined with exercise and proper nutrition. However, we cannot stop the natural aging that affects your appearance. For this reason, we recommend regular maintenance visits.
Are the treatments painful?
You may feel a slight pinching or burning sensation when the injections are administered. However, we can provide a topical anesthetic that makes treatment virtually painless.
Are there any side effects?
A common side effect of Mesotherapy is bruising, which generally resolves over one week. To speed up the healing process, we recommend that the homeopathic supplement arnica be taken either orally or applied topically on a daily basis. Patients may experience temporary soreness. This will subside within 24-48 hours.
Are there any Restrictions?
Restrictions vary, depending on the condition being treated. We discuss these with each patient before treatments commence. In general, patients are advised not to wear makeup for at least 4 hours after facial treatments, not to take hot showers for at least 6 to 8 hours. We recommend that patients eat a high-protein meal, and avoid caffeine or other stimulants before treatment.  
About your Aesthetic Practitioner 
Olena Shevchenko is a registered nurse and has as a true passion for working in the field of non-surgical aesthetics and takes pride in professional and honest approach, and works with a no hard selling ethos. 
She is an Advanced Practitioner for Botox® and a variety of dermal fillers and therefore able to offer an individualised therapy regime tailored to specific needs and requests. 
As an Independent Nurse Prescriber Olena is registered with the Nursing and Midwifery council and insured through Hamilton and Fraser and has received full training in the products she prescribes and uses. 
The most commonly requested treatments for Botox ® are for frown lines between eyebrows, Crow's feet or smile lines around the eyes and horizontal forehead lines.
Olena is also able to consult and provide treatment for facial and body mesotherapy regimes and combines these with Galvanic Desincurstation and Iontophoresis. 
Qualifications
Advanced DipHE in Adult Nursing 2005

BSC Hons in Midwifery 2008

Independant Non Medical & Supplementary Nurse Prescriber
Training
Advanced Facial Aesthetics

Advanced Dermal Fillers & Botox

Mesotherapy Face & Body Chemical

Peel Neostrata & G/O Therapeutics
Customers Who Viewed This Item, Also Bought