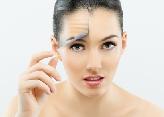 Chemical Peel for face
Chemical peel is an effective treatment to reduce the appearance of sun, age, pregnancy and acne related hyperpigmentation by gently removing the outer layer of the skin, which is then rebuilt anew. Peels are also useful in skin rejuvenation and brightening, reducing superficial acne scarring, particularly whiteheads and blackheads, improve the appearance of fine lines and wrinkles and skin clarity.
Depending on skin condition and desired outcome a few sessions may be required. Chemical peel could be used on face, neck, décolletage, hand and other body areas. At Wellness Studio we offer a range of Chemical Peels (Glycolic Acid Peel, TCA Peels and Modified Jessner) from mild to moderate strength to suit individual needs of a client.
Over the next 1 to 14 days, depending on types of peel and layers applied and how deeply the chemical penetrated the skin, the old skin peels off and a new skin grow in its place.
About your Aesthetic Practitioner 
Olena Shevchenko is a registered nurse and has as a true passion for working in the field of non-surgical aesthetics and takes pride in professional and honest approach, and works with a no hard selling ethos. 
She is an Advanced Practitioner for Botox® and a variety of dermal fillers and therefore able to offer an individualised therapy regime tailored to specific needs and requests. 
As an Independent Nurse Prescriber Olena is registered with the Nursing and Midwifery council and insured through Hamilton and Fraser and has received full training in the products she prescribes and uses. 
The most commonly requested treatments for Botox ® are for frown lines between eyebrows, Crow's feet or smile lines around the eyes and horizontal forehead lines.
Olena is also able to consult and provide treatment for facial and body mesotherapy regimes and combines these with Galvanic Desincurstation and Iontophoresis. 
Qualifications
Advanced DipHE in Adult Nursing 2005

BSC Hons in Midwifery 2008

Independant Non Medical & Supplementary Nurse Prescriber
Training
Advanced Facial Aesthetics

Advanced Dermal Fillers & Botox

Mesotherapy Face & Body Chemical

Peel Neostrata & G/O Therapeutics