The Dermalogica® skin treatment 60min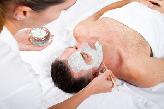 The Dermalogica® skin treatment 60min
60 minutes
When Dermalogica meets skin, skin health is redefined. Our promise to you is that your skin will never have felt as clean, or as healthy, as after one of our professional services. The Dermalogica Skin Treatment is 100% customised to your skin need's based on consultation and a thorough, zone-by-zone Face Mapping® skin analysis, making it one treatment… that's different every time! Totally designed to meet to your needs, each treatment includes professional double cleansing, exfoliation, results enhancing electrical modalities, extractions (as needed), masque, toner and skin protection.  To complete your treatment experience you can customise your skin treatment with your choice of Touch Therapy.
---
We may choose from the following Dermalogica segmented lines to create the ultimate skin result:
AGE smart® Are the signs of ageing more prevalent on your skin? AGE Smart® will give it a revitalising power boost to firm, smooth, nourish, regenerate and energise while controlling the biochemical triggers that lead to skin ageing.
UltraCalming™ The Dermalogica UltraCalming™ products are serious relief for sensitised skin that calms, soothes and replenishes the most aggravated, irritated, inflamed skin.
MediBac Clearing®It's the end of the line for adult acne with this powerful line of products that will jump-start acne clearing and help prevent acne well beyond the treatment.
ChromaWhite TRx®Accelerate skin brightening, improve skin tone, enhance skin clarity and create a fresher, healthier appearance with this effective treatment.
Dermalogica touch therapies
You can customise your Dermalogica Skin Treatment with your choice of Touch Therapy, 15 minutes of extra attention where you need it most.
customised face massage
stress relief neck and shoulder massage
stress relief back
stress relief foot
stress relief scalp
Got a key skin concern?
Dedicate your Touch Therapy time to boosting skin results with intense treatment using additional electrical modalities and specialist masques.
Your beautician -
Marija Karpina
performs a careful evaluation of your needs and creates a customized Lipomassage program based on her diagnosis LPG, the world-renowned Endermologie specialist, has created the Lipomassage: a patented slimming treatment designed to treat localized fat, cellulite, and lose skin, to resculpt the body, and boost circulatory exchanges. Patented treatment heads equipped with independent, motorized rollers delicately manipulate the skin tissues to stimulate the dormant cells and relaunch the fat release. With Lipomassage, you can target your problem areas and be slimmer where you really want.
Marija Karpina is a highly trained aesthetic practitioner with 15 years of experience based in London. Specializing in non medical rejuvenating skin treatments including Oxygen infusion, skin peels, ultrasound and her signature facial rejuvenation treatment.
Marija uses advanced cosmetic brands in all her skin treatments including: Obagi ZO® Skin Health, gloTherapeutics, SkinCeuticals, Anna Lotan, NeoStrata and Medik8. Marija is a member of the British Association of Beauty Therapy & Cosmetology BABTAC. She is personally insured for both cosmetic and permanent make-up procedures.
Marija holds a diploma from "Finishing Touches" - a prestigious school in the industry of permanent make-up which is recognised by VTCT and BABTCA.
Marija is dedicated to providing quality service, giving clients her full attention. Treatments are never rushed and appropriate time is given to each detail with the aim to work with your natural features to compliment your existing look. "I am dedicated to perfection and results that will make you happy".