Follow up osteopathic treatment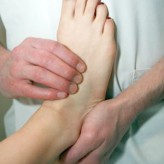 £55.60

or
£50.00


if booked on-line
Book now
Follow up osteopathic treatment
Osteopaths treat holistically so that the whole of the body is considered and treated. The body movement and postural examination will help the Osteopath identify what led to the patient's problem in the first place. With this information the patient's problem can be prevented from recurring in the future. For instance, a patient presenting with knee pain will also have their ankle, foot, hip and lumbar spine assessed as any of these areas could lead to pain in the knee.
Treatments involve gentle stretching of muscles to help them relax, stimulating ligaments and other soft tissues with massage type techniques to reduce adhesions and restoring joint movement by articulation, stretching and manipulation. There are many other techniques that may be used depending on the condition and which techniques you are happy with.
Osteopathy is a holistic approach to treating a wide range of aches, pains and stiffness anywhere in the body.
Osteopathy assesses the patient from a mechanical, functional and postural standpoint. The practitioner uses a highly evolved sense of touch to investigate the underlying causes of pain and determine tension and restrictions in the body. These, along with a detailed history of the patient, can help to determine a diagnosis. Osteopathic treatment aims to reduce tension and restrictions, thereby restoring balance and reducing symptoms of pain or stiffness.











This is achieved by a non-invasive, hands on approach using muscle and soft tissue stretching, rhythmic joint movement or manipulation techniques. These help to improve the range of movement of a joint or reduce tension in a muscle. These manual techniques are adapted to suit the needs of the individual.
Symptoms can result from a previous injury, a childhood condition, poor posture, injury, ageing, poor health, stress and tension. The osteopath will observe asymmetry, misalignment and tension in the patient and use this information to help restore proper function during treatment. Osteopathy concerns itself with treating the underlying or predisposing factors that have attributed to the patient's symptoms, so that some of the treatment is performed away from the site of pain.
A basic osteopathic principle is that the body has the ability to heal itself. Therefore, the aim of the osteopath is to help restore proper structure through soft tissue massage, mobilisations, manipulation of joints and other techniques. Restoring proper structure helps return the body to normal function, leading to reduced symptoms.
Each patient is treated as an individual and given the best possible attention. A personalised treatment plan will be created for you, containing short, medium- and long-term management strategies, such as exercises and general lifestyle advice.
On average, 2 or 3 treatments are all that is needed, for some patients just one treatment can give complete relief. The number of treatments depends on the individual, the type of problem and how long they have had the problem. This can be discussed once the diagnosis has been made.
Osteopaths are regulated by the General Osteopathic Council and undergo rigorous training and Continued Professional Development.
Allow a full hour for the initial consultation and treatment. For follow up treatments, a 30 minute appointment is usually booked.
At your first appointment, a detailed case history will be taken. This will assist in making a diagnosis and allow a better understanding of your problem. Your lifestyle and physical stresses (either through work or sport) are useful in helping aid a diagnosis. A review of your current health status is important to help complete the picture and to ensure that no underlying conditions exist that might be aggravated by osteopathic treatment.
After your case history has been taken, you will have a structural examination. This is a visual and hands-on evaluation of the body, while standing, sitting and lying down and is therefore best performed with the patient in their underwear to allow a clear view of your structure. You may choose to bring shorts and a sports top, or you can use a gown provided. You may be asked to perform specific movements during your examination in order to assess range of movement in the joints.
After your examination, I will discuss my findings and diagnosis, and treatment will then begin. Soft tissue massage, mobilisations of joints as well as manipulation are common techniques performed during treatment.
Your comfort is important and will be a guide to the treatment. You may request modification of the treatment to suit you and for maximum comfort.
Treatment is a two-way process and communication is key. If there is something that is uncomfortable or worrying about any aspect of the treatment, discuss this immediately with the osteopath.
Your visit will conclude with recommendations of ways to reduce symptoms between treatments and suggestions for activities or exercise or lifestyle choices that will address any underlying imbalances to help further reduce symptoms and prevent future recurrence.
CANCELLATION POLICY
If you need to cancel your appointment, please contact me before 5PM on the day before your appointment. A late cancellation fee will apply.
No shows will be charged the full amount.
GILLY ARBUCKLE B.OST
Doctor of Osteopathic Medicine at the Parkland Natural Health Clinic Gilly found an interest in Osteopathy after a back injury sustained whilst working with adults with disabilities in 1997. The treatment, advice and long term management he received led to an awareness of the body's innate mechanism for activating healing and how to avoid injury. He studied human biology, physiology, anatomy & massage and went on to qualify as an Osteopath at the British School of Osteopathy. He has been treating holistically for six years.
Gilly is registered with the professions' governing body, the General Osteopathic Council (GOsC) and is a member of the British Osteopathic Association (BOA). His areas of particular interest are sports therapy (including athletes/dancers) and management of long term postural dysfunction.
TESTIMONIALS
"After suffering with a painful and stiff shoulder for two years that did not respond to physio or acupuncture, I tried osteopathy with Gilly. After only one treatment, he told me what the problem was and fixed it. He is friendly and caring and made me feel totally at ease."
Tanja Drayton, massage therapist
CONDITIONS TREATED
Osteopathy can treat a number of conditions that present with aches, pain or stiffness to joints, muscles, ligaments or tendons at any site on the body. Musculoskeletal pain and injury are commonly referred for treatment especially patients with neck or back pain but other conditions may benefit.
Most people believe osteopathy only treats back and neck pain. It is, in fact, a holistic therapy that can treat a wide range of complaints for most parts of the body.
COMMON COMPLAINTS
Common complaints include stress, tension headaches, back pain, neck pain, whiplash, disk injuries, sciatica, trapped nerve, ankle sprains, tennis elbow, repetitive strain injuries, carpal tunnel syndrome,  arthritic pain, postural problems and much more.
Call Gilly for advice on whether your specific condition will benefit from Osteopathy.
Shoulders can be prone to injury. There are many structures in the shoulder that can cause pain. Shoulder pain may result from direct trauma, sports injury, poor posture, repetitive actions or other conditions such as frozen shoulder or osteoarthritis.
BACK OR NECK PAIN
These are commonly treated conditions for which osteopathy may provide effective relief.
POSTURE RELATED PROBLEMS
Very few of us have good posture. This may be exacerbated by sitting at a desk for long periods.
PROBLEMS RELATED TO REPETITIVE ACTION
Repetitive action can lead to symptoms of pain, pins and needles, numbness or weakness in the arms and hands.