Platelets Rich Plasma Injections - one session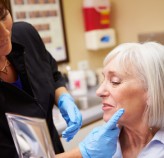 Platelets Rich Plasma Injections - one session
Platelet Rich Plasma (PRP) injections are widely used in aesthetic medicine to rejuvenate and slow down the aging process which utilise the persons own unique tissue growth factors and healing properties to revitalise mesenchymal-epithelial tissue by improving blood supply and stimulating collagen and elastin formation, the results of which improves and increases over time. PRP could be used alongside other treatments such as Mesotherapy, Wrinkle Relaxing Injections, PDO Thread Lift and Dermal Fillers to treat hair loss, deep and fine wrinkles, scar revision, stretch marks, lost volume to face and hands, sunken eyes and many more problems. A small volume of client's blood (10-20 mls) is drawn and through a process of centrifugation PRP is separated from blood and injected with fine needle into identified areas. It may take a few weeks (or months in case of hair re-growth) for the results of the PRP therapy to become visible, but with two to three top-up treatments every 4 to 6 months, you can expect the results of PRP therapy to last for up to one and a half years. Recovery time is minimal. There is a mild discomfort at injection site, minimal swelling and rarely bruising reported and could be alleviated with application of an ice pack and mild painkillers.
Duration of treatment 60 minutes
About your Aesthetic Practitioner 
Olena Shevchenko is a registered nurse and has as a true passion for working in the field of non-surgical aesthetics and takes pride in professional and honest approach, and works with a no hard selling ethos. 
She is an Advanced Practitioner for Botox® and a variety of dermal fillers and therefore able to offer an individualised therapy regime tailored to specific needs and requests. 
As an Independent Nurse Prescriber Olena is registered with the Nursing and Midwifery council and insured through Hamilton and Fraser and has received full training in the products she prescribes and uses. 
The most commonly requested treatments for Botox ® are for frown lines between eyebrows, Crow's feet or smile lines around the eyes and horizontal forehead lines.
Olena is also able to consult and provide treatment for facial and body mesotherapy regimes and combines these with Galvanic Desincurstation and Iontophoresis. 
Qualifications
Advanced DipHE in Adult Nursing 2005

BSC Hons in Midwifery 2008

Independant Non Medical & Supplementary Nurse Prescriber
Training
Advanced Facial Aesthetics

Advanced Dermal Fillers & Botox

Mesotherapy Face & Body Chemical

Peel Neostrata & G/O Therapeutics