Course of six 2 hours massage sessions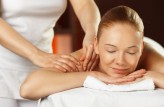 £833.40

or
£675.00


if booked on-line
Book now
Course of six 2 hours massage sessions
 Save 20%  We offer a flexible range of options that allow you to decide what kind of therapy you would like on the day. Clients are encouraged to mix an match their choice of therapies to best suit their needs.
AROMATHERAPY: More than just a pretty fragrance
Aromatherapy is the art of using essential oils, derived from flowers, leaves and trees, in order to promote health and well-being.
Each client receives an individually tailored, relaxing massage in which essential oils are uniquely blended for their specific needs. These oils, combined with massage, will help to relieve muscular aches and pains, increase relaxation and reduce stress.
Reflexology is an ancient therapy practised by the Egyptians and Chinese thousands of years ago
It is based on the theory that energy pathways run throughout the body and terminate in the feet and hands. Reflex points on the feet and hands correspond to specific parts of the body. 
Reflexology involves the application of specific pressure, using fingers and thumbs, to reflex areas over both feet, with particular attention to any imbalances within the body.
Regular treatment helps to restore and maintain the body's natural equilibrium and stimulates the body's own healing mechanism. It is an excellent way of relaxing, revitalising and helping to harmonise all the body systems.
Reflexology can help relieve:
Stress Related Problems

Migraine / Headache

Pre-Menstrual Tension (PMT) and Menopausal problems

Back / Neck Pain

Respiratory Conditions

Fatigue

Digestive Disorders
Reiki is an ancient form of hands-on healing that involves balancing Ki, Chi or life energies.
Reiki means Universal Life Force and was rediscovered in Japan by Dr Mikao Usui.
Reiki can work on all levels – physical, mental, emotional and spiritual. The Reiki energy is channelled through my hands, bringing you positive healing that travels through to wherever you need it. There is no massage involved in this treatment – you will lie fully clothed on the couch, or sit in a chair, and I will place my hands on various positions on your body. You may experience heat, cold, tingling or even a deep sense of peace. Reiki is safe and non-intrusive and it can be combined with meditation or visualisation to help you on your journey to find the "Stillness Within".
Pre and Post-natal massage
Designed specifically for those with child, pre-natal or ante-natal pregnancy massage incorporates various styles and techniques depending on the needs and wants of the client, and each process boasts a different emotional or physical benefit:
deep tissue massage relieves tension and improves movement

relaxation massage helps to increase the metabolic rate and breaks down food

lymphatic drainage massage maintains circulation and decreases swelling

therapeutic massage eases stress and anxiety as well as increasing muscular strength
It's not uncommon for all to be used.
When you have your first massage you will be told how to lie, but if you're more than 13 weeks pregnant, you'll probably be positioned on your side as this is the most comfortable and strain-free pose. You'll also be supported with pillows, cushions and towels so you can completely relax and not panic about holding yourself up. Sometimes massage tables will have 'belly holes' similar to where you rest your head, but these can increase the amount of pressure on the lower back, so you'll need to discuss this with your therapist beforehand.
During the treatment your back, neck, shoulders, arms, hands, legs and feet will all be massaged, but apart from the area being treated, you'll be covered with towels to keep you comfortable, warm and relaxed, so there's no risk of over exposure here. And, to help you unwind, a blend of baby-friendly oils will be applied.
Generally most therapists recommend you wait until your second trimester before you book in for a treatment, but depending on how often you normally have massages, you shouldn't be turned away in your first trimester. It's suggested that its advantageous to maintain regular treatments throughout the pregnancy continuing right up until the birth. Each session lasts between an hour and an hour and a half.
Deep Tissue Massage is a massage technique that focuses on the deeper layers of muscle tissue.
It aims to release the chronic patterns of tension in the body through slow strokes and deep finger pressure on the contracted areas, either following or going across the fibers of the muscles, tendons and fascia.
Deep tissue massage is used to release chronic muscle tension through slower strokes and more direct deep pressure or friction applied across the grain of the muscles not with the grain. Deep tissue massage helps to break up and eliminate scar tissue. Deep tissue massage usually focuses on more specific areas and may cause some soreness during or right after the massage. However, if the massage is done correctly you should feel better than ever within a day or two.
Sports or performance
A manual therapy treatment for athletic performers based upon the demands of the sport or performance on a specific body type at various points in the athlete's training, development and competition.
Myofascial and structural techniques for the leg, pelvis, back, arms, shoulders, chest, neck and head will be assessed and implemented.
Tsuboki
The Japanese believe that beauty is more than skin deep, and that to be beautiful you have to be healthy too.
The fantastic thing about Tsuboki™ Japanese face massage is that it works on many levels at the same time, from the inside and the outside.
By working SUPERFICIALLY we improve skin tone and lymph flow.
By working with the MUSCULATURE at a deeper level, we can affect muscle tone and general appearance, as well as prepare the face for the next stage.
By working with the MERIDIANS that run through the face, we can affect the balance of health in the whole body. In addition, many of the TSUBOS have a specific beneficial effect on the appearance of the face.
By working with the LYMPHATIC system we encourage the removal of metabolic waste products.
Many of the techniques can help to prevent lines, wrinkles, and puffiness – a natural facelift!
Kate L. Kahle
From the very beginning my philosophy has always been that the client receives the treatment that they need.  Whether I'm consulted about a chronic condition, elusive work /life balance or for a deeply relaxing treatment, the first thing I do is listen.  I learn as much from my clients as they do from me – it really is a partnership.  Giving them something to take beyond the treatment room, a sense of their own power is the key.
Massage therapies:
Aromatherapy
London School of Aromatherapy August 1991
Advanced Massage November 1997
Lymphatic Drainage Massage June 1998
On-Site Massage
Academy of On-Site Massage
Practitioners Course May 1993
No-Hands Massage
Foundation Course February 2004
Practitioners Course November 2004
Reiki:
Level 1 March 1997
Level 2 August 1997
Master / Teacher Level with The International
Reiki Healing Training Centre December 2001
Reflexology:
ITEC April 2002
Precision Reflexology March 2009
Tsuboki:
Japanese Face Massage February 2010
Sports & Performance
Facia Bodywork April 2010
Customers Who Viewed This Item, Also Bought