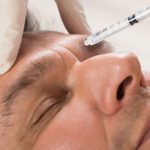 Supplement for men
Botulinum Type A injections for men as a Supplement

Anti-wrinkle injections Botox® is a simple non-surgical procedure that relaxes the muscles of your face to smooth deep, persistent lines between eye brows, on the forehead and around eyes (Crow's feet). One 10-minute treatment – a few tiny injections will keep muscles relaxed for up to 4 month.
Dermal fillers used to treat wrinkles are bio-stimulants of the body's own collagen and consist of non-animal based hyaluronic acid which is a substance that is naturally present in living cells. Filler injected into the skin in small amounts with a very fine needle and have a lasting result of up to 9-12 months and even longer after subsequent treatments. Hyaluronic acid can be used as wrinkle filler, fold filler (Nasolabial groove) or for lip augmentation.
Botox Injections can be combined with dermal fillers to optimise and enhance results. Your specialist will discuss the best option for you depending on your type of skin wrinkles.
Results can be seen immediately and treatment with fillers is safe, fast and leaves no permanent scars or other traces on the face. Fillers add natural volume in your skin to lift and produce new firmness resulting in a healthy and vital appearance.
The amount of dermal filler needed is decided by the specialist during the consultation and varies from person to person depending on the depth of the line or wrinkle. As a general guide lip treatments require approximately 1 ml of dermal filler, and nose to mouth wrinkles require approximately 2 ml.
The treatments are carried out by qualified Aesthetic Practitioners with medical and dental background with years of experience of working for NHS and private clinics in London. They provide a comprehensive aftercare regime following your Botox® and Dermal Fillers treatments.
"We aim to provide a great patient care and quality treatments to all our customers"
About your Aesthetic Practitioner 
Olena Shevchenko is a registered nurse and has as a true passion for working in the field of non-surgical aesthetics and takes pride in professional and honest approach, and works with a no hard selling ethos. 
She is an Advanced Practitioner for Botox® and a variety of dermal fillers and therefore able to offer an individualised therapy regime tailored to specific needs and requests. 
As an Independent Nurse Prescriber Olena is registered with the Nursing and Midwifery council and insured through Hamilton and Fraser and has received full training in the products she prescribes and uses. 
The most commonly requested treatments for Botox ® are for frown lines between eyebrows, Crow's feet or smile lines around the eyes and horizontal forehead lines.
Olena is also able to consult and provide treatment for facial and body mesotherapy regimes and combines these with Galvanic Desincurstation and Iontophoresis. 
Qualifications
Advanced DipHE in Adult Nursing 2005

BSC Hons in Midwifery 2008

Independant Non Medical & Supplementary Nurse Prescriber
Training
Advanced Facial Aesthetics

Advanced Dermal Fillers & Botox

Mesotherapy Face & Body Chemical

Peel Neostrata & G/O Therapeutics
Customers Who Viewed This Item, Also Bought
£440.00


£400.00 if booked on-line

£89.00


£80.10 if booked on-line

£90.00


£80.00 if booked on-line

£225.00


£215.00 if booked on-line

£180.00


£168.00 if booked on-line

£89.00


£80.10 if booked on-line

£119.00


£107.10 if booked on-line

£280.00


£252.00 if booked on-line

£89.00


£80.10 if booked on-line